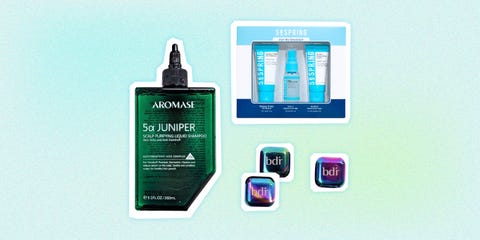 Retailers/Design by Yoora Kim
There's no denying it, beauty trends are always changing and evolving. Brands are focusing more on sustainability and clean formulas, updating many of the products we know and love to do more than just improve the quality of your skin and hair. These changes also have a positive impact on the environment (love that for us). While we all have our die-hard, can't live without beauty staples like setting powders and pore minimizers, many of the newer and soon-to-be viral beauty goodies making their way onto virtual and physical shelves, just might be the upgrade you didn't know you needed.
To get the full tea on what's happening in the massive world of skincare, haircare, and makeup, we hit CosmoProf North America. Consider Cosmoprof the beauty Olympics. Every year, the organization hosts a massive convention in Las Vegas where newbie and vet beauty brands gather to show their latest, most innovative offerings. This year, 1,100 exhibiting brands showcased new products that push the boundaries of skin, hair, nail care, and wellness. There were also panel discussions that forecasted emerging trends like refillable beauty and ethical sourcing.
The trade show floor was jammed packed with out-of-this-world level hot tools, unique spins on everyday products, and deets on products that would be launching soon. Brands like Geske and Multi have amazing releases that won't hit stores until later this fall but take our word, you're bound to see some of these innovations on your FYP soon. Consider this is your SOS to get familiar, so you'll be in the know when they drop.
There's so much greatness in store from microfiber towels to cryotherapy tools. Of the enormous selection, we picked out 10 new beauty products from CosmoProf North America's 2022 tradeshow that you'll want to add to your back-to-school shopping list, stat.
Advertisement – Continue Reading Below
1
Best Moisturizer
Self-Defense Super Charged Moisturizer
This creamy moisturizer protects skin from damage and environmental stressors thanks to active ingredients like B vitamins. Essential oils in the formula moisturize and soothe skin.
two
Best Hair Accessory
Twist & Tie Microfiber Hair Towel
By now, we should all know the importance of using microfiber towels to reduce breakage and achieve soft, silky hair. Not only can you towel dry your hair without the risk of damage, but this BB also comes equipped with a twist and tie so that it stays put until you're ready to style.
3
Skin Conditioning Lip and Eye Remover
After rocking a glam beat for a full day, the last thing anyone wants to worry about is damage from harsh makeup removers. Dear Dahlia's lip and eye remover conditions and hydrates through plant-derived ingredients like shea butter and almond oil.
4
5α Juniper Scalp Purifying Liquid Shampoo
This isn't your average shampoo. Enriched with a pH5.5 Amino acid-base (5 is the scalp's suggested pH), this pre-shampoo helps remove scalp buildup and dandruff while alleviating redness and irritation.
5
Pressed Silk Blushing Balm
All of the It-Girls know that blush is a must-have (just ask Hailey Bieber). This blushing balm is highly pigmented and leaves a dewy finish.
This K-Beauty skincare brand keeps all the necessities on lock with travel sizes that are perfect to throw in your carry-on and go. this summer and beyond.
8
Best Eyeshadow Palette
The Queen 30 Color Eyeshadow Palette 1
Sistar Cosmetics The Queen palette offers a wide variety of vibrant shimmer and matte hues to create jaw-dropping eye looks.
9
Best For Kinky, Coily, and Curly Hair Textures
Twist Pick
The PowerTwist Twist Pick is special. Not only does it have a Black power fist handle that's easy to grip for both righties and lefties, but the plastic grate helps define textured hair without pulling and tugging as metal versions do, and without harboring bacteria and grime like its sponge counterparts
Your skin down there deserves just as much attention as the skin on the rest of your body. conditionHER is an unscented moisturizing cream that can help soothe ingrown hair irritation, chafing, vulva dryness, and razor burn with the help of ingredients like moisturizing shea butter, olive oil, and calming German chamomile
This content is created and maintained by a third party, and imported onto this page to help users provide their email addresses. You may be able to find more information about this and similar content at piano.io
Advertisement – Continue Reading Below