As the winningest college in existence with 130 NCAA national championships and 157 championships overall, Stanford has produced what feels like an infinite amount of stars across all sports.
Stanford has asserted their dominance in both men's and women's sports with 69 championships in men's sports, and 61 in women's sports. Of Stanford's 130 NCAA championships that they have won, 35 have been won by fall sports, 31 by winter sports and 64 by spring sports.
Unlike other schools atop the all-time winningest rankings that were dominate decades ago like Yale, UCLA, Navy, Cornell, and Princeton, Stanford have continued to be the most successful athletic program out there. Stanford has a current streak of winning at least one NCAA team championship during each of the last 46 seasons, dating back to the 1976-77.
Thinking of all the success that the institution has had, it made me curious as to who were the best athletes that they have produced of all time. So, with that being said I decided to take a risk and rank the top 10 professional athletes who hailed from Stanford based off their professional success.
Of course being that there is only 10 available spots, some very notorious names will be left off the list but they will receive an honorable mention nod. Those players include possibly the biggest "what if" in sports in quarterback Andrew Luck who was a four-time pro bowler, while holding records such as most passing yards in a single game by a rookie quarterback (433), and most passing yards in a single season by a Colt (4,761). He also led the Colts to the playoffs four times. Had it not been for injuries and an early retirement, he likely would have made the list, but there are just so many accomplished athletes.
Others include: Carolina Panthers running back Christian McCaffrey, WNBA champion and at one point Stanford's all time leading scorer Candice Wiggins, olympic swimmer Summer Sanders, World Cup winner Julie Foudy, Olympic gymnast Kerri Strug, WNBA players Nneka and Chiney Ogwumike, and NBA players the Lopez twins Brook and Robin, and Olympic swimmer Simone Manuel. Let's take a look at the top 10 athletes that Stanford has produced.
10. Mike Mussina, Baseball
After a stellar career at Stanford that saw him help lead the Cardinal to the College World Series, pitcher Mike Mussina was drafted by the Baltimore Orioles. His MLB career lasted 17 seasons, and he saw him make five all-star teams, with seven Gold Gloves, two World Series appearances, and was elected to the Baseball Hall of Fame. What makes him special is that for a majority of his career if not all, he was pitching against the peak era of performance enhanced using hitters. I have finished his career with 270 wins, a 3.63 ERA, and over 2,800 strikeouts.
9. Richard Sherman, Football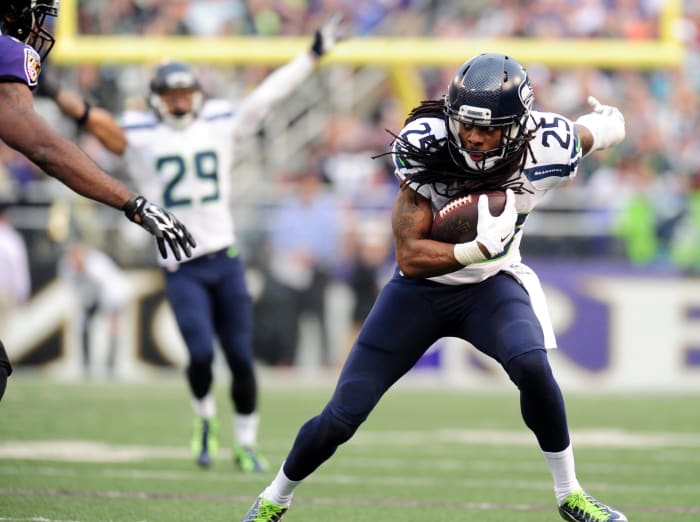 The face of what may have been the most ferocious secondary the sport has ever been seen in the Legion of Boom, Richard Sherman had a stretch where he was among the best or the best corner in the game. Sherman started his career at Stanford as a receiver, but switched to defense to help out with the lack of depth on the defensive side of the ball. He would go on to be drafted by the Seattle Seahawks, and quickly became a star.
He not only helped lead Seattle to a Super Bowl (don't try him with sorry receivers) but has also been selected to five All-Pro teams (3 first, 2 second), five Pro Bowls, and the 2010's all-decade team . He has over 30 interceptions, and is widely considered one of the best corners to ever play the game. Injuries set him back a couple times during his career, but that doesn't deny the fact that he is one of the best corners and minds the league has ever seen. He will surely make the Hall of Fame when his time comes.
8. Kerri Walsh Jennings, Volleyball
The Santa Clara native was half of the duo that was tabbed the "greatest beach volleyball team of all time" with Misty May-Treanor. Jennigs was a four-year first-team All American at Stanford, and was a star professionally winning as many as 108 straight matches spanning across multiple Olympics. She won three Gold Medals and one Silver while competing in the World Championships, and also three-peated for Gold at the 2004, 2008 and 2012 Olympic Games and notched a Bronze in 2016.
7. John LynchFootball
A two sport star while at Stanford playing both baseball and football, John Lynch tried the baseball route first after being drafted in the second round of the 1992 MLB Draft by the Florida Marlins as a pitcher. However, after a couple seasons in the minors he was selected by the Tampa Bay Buccaneers in the 1993 NFL Draft and decided to give football a go. A decision that worked out very well for him.
Lynch would go on to have a 15 year NFL career that saw him earn nine Pro Bowl selections, three First-Team All-Pro selections, one Second-Team All-Pro selection and a Super Bowl. He was also considered one of the hardest hitters to play the sport. He is a member of the Hall of Fame, and is currently serving as the General Manager of the San Francisco 49ers.
6. Jim Plunkett, Football
After a thyroid issue almost prevented him from playing quarterback, he was an integral piece of the beginning of the era of pro-style offenses. He was not only the first and only Cardinal to win the Heisman trophy, but also the first Latino to win the award. His successful college career also helped him make history during the 1971 NFL Draft when he was selected No. 1 by the New England Patriots, marking the first time a Latino was selected with the first pick.
He would go on to throw for over 25,000 passing yards in his 16-year career. Plunkett won rookie of the year honors, two Super Bowl championships, a Super Bowl MVP award, and the 1980 Comeback Player of the Year award. Plunkett remains the only eligible quarterback to start (and win) two Super Bowls without receiving a Hall of Fame induction.
5. Tom Watson, Golf
Tom Watson was one of the best golfers on the planet during his prime, being ranked as the No. 1 player in the world for six total years. His career winnings included five Open Championships, two Masters titles and one US Open title. In total I have won 39 PGA events.
4. John McEnroe, Tennis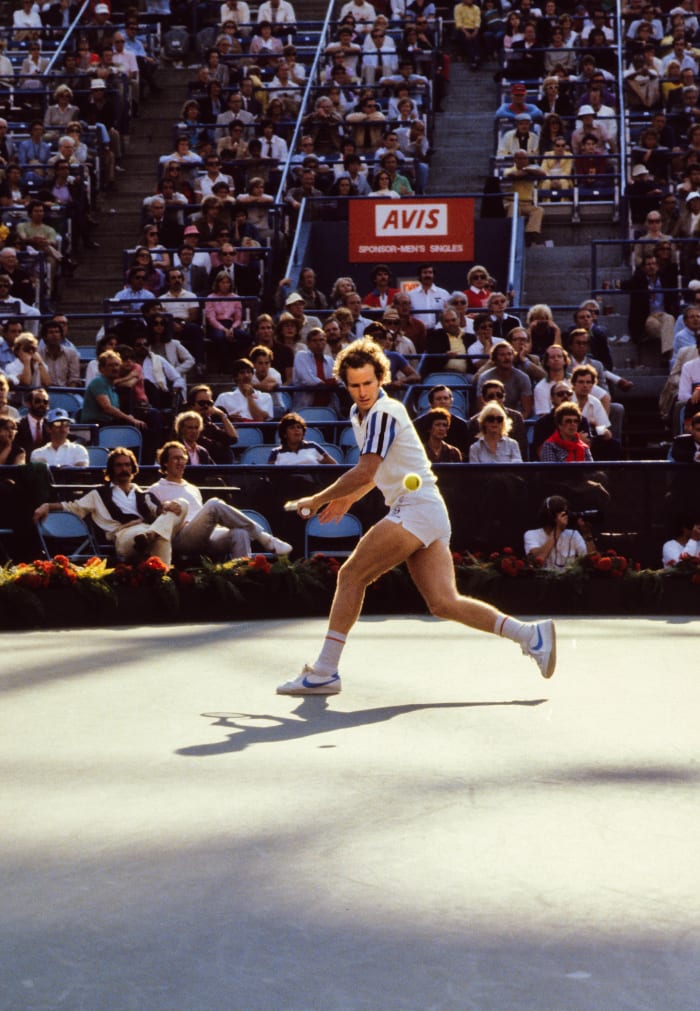 After he led the Stanford team to an NCAA championship while also winning the NCAA singles titles, John McEnroe joined the ATP. Regarded as one of the most confrontational Tennis players to play, McEnroe was elite in both singles and doubles ranking at No. 1 in the world at both. He has finished his career with 77 singles titles on the ATP Tour and 78 doubles titles, which remains the highest men's combined total of the Open Era. He is also the only male player to win more than 70 titles in both the men's singles and the men's doubles categories.
3. John Elway, Quarterback
Similar to John Lynch, John Elway was a two-sport star at Stanford playing baseball and football. Elway was both a right fielder and pitcher for the Cardinal, and during his senior season, he hit for .361 with nine home runs and 50 RBI's in 49 games while sporting a 5-4 record with a 4.51 ERA. He was drafted by the Yankees in the second round ahead of MLB Hall of Fame Tony Gwynn. His time as a college quarterback was interesting due to the fact he never took Stanford to a bowl game, but he shattered just about every Pac-10 record and was even a Heisman finalist. He was inducted into the College Football Hall of Fame and ranked #15 on ESPN's Top 25 Players In College Football History list. He also passed for over 200 yards in 30 of his 42 collegiate games.
His electric career saw him get drafted with No. 1 overall pick by the Denver Broncos where he would play all of his 15-year career. He would lead the Broncos to back-to-back Super Bowl titles while making it five total times, five AFC Championships, nine Pro Bowl selections, a league MVP award and was elected to the Hall of Fame. He has finished his career with over 51,000 passing yards, 300 touchdown passes, and added 33 rushing touchdowns. He is now the President of Football Operations for the Broncos.
Katie LedeckySwimming
Arguably one of the most dominant athletes ever, Katie Ledecky has been nothing short of a legend during her young career. She broke onto the scene at the young age of 15, winning a gold medal at the London Olympic Games in 2012. She has often been tabbed the female Michael Phelps, and continues to be at the top of the world. In total, she has won 10 Olympic medals (seven gold and three silver) while also adding 14 world championship individual gold medals. She currently holds the world records in the women's 400m, 800m and 1500m freestyle, and has broken a total of 14 records during her career. She's been named the Female World Swimmer of the Year a record five times, and likely counting.
While at Stanford she helped lead the team to two national championships, their first national championship since 1998. There is a good chance that by the time her career is said and done, that she is at the top of this list.
1. Tiger Woods, Golf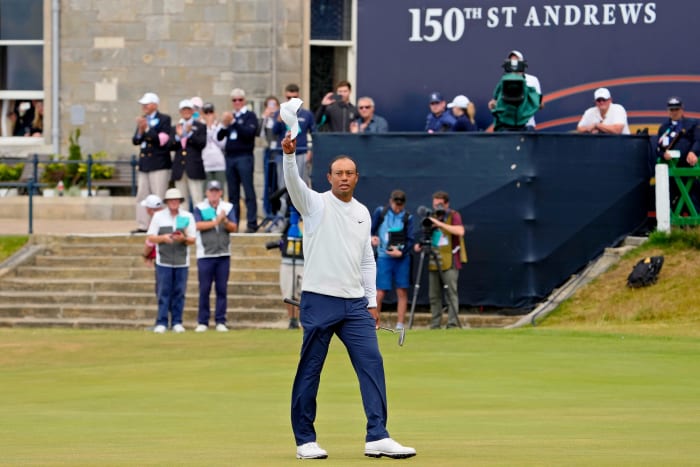 Widely considered as the best golfer of all time, Tiger Woods tops this list and will be extremely hard to dethrone. At age 20 in 1996, he became the first golfer to win three consecutive US Amateur titles and won the NCAA individual golf championship. He spent just two seasons at Stanford before embarking on his highly decorated professional career.
Woods has won 82-time PGA Tour events, including five Master's wins, four PGA Championships, and three US and Open Championships. He has been awarded PGA Player of the Year a record 11 times, and is also the third athlete in the world to become a billionaire. Woods has held countless golf records, as he has been the number one player in the world for the most consecutive weeks and for the greatest total number of weeks of any golfer in history. 2006 was a record breaking season that saw him net 54 total wins that included 12 majors, and would later go on to break the tour records for both total wins and total majors wins over eleven seasons. He recently overcame a nearly deadly car crash, and is continuing to play at a high level at the age of 46. He was apart of the 2021 World Golf Hall of Fame class, and was even given the Presidential Medal of Freedom in 2019.
.