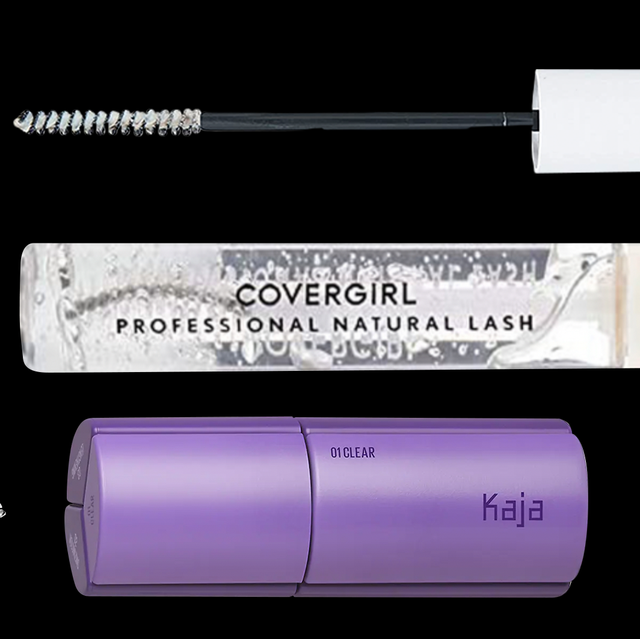 Courtesy Image
Yoo hoo! Overhere! I'm about to let you in on the biggest beauty hack you may or may not know about: clear mascara. And before you're all like, huh? WTF is a clear mascara going to do if it doesn't have any pigment?! Well, my friends, let's break it down: a clear mascara can act as a brow gel, mascara primer, hair gel, lash definer, false lash setting gel, and even a DIY color mascara. Impressed yet? Cool, because I've tapped a few experts—celebrity makeup artist Jenna Nicole and dermatologist Mona Gohara, MD—to let you in on why this product is Item. Oh, and I also rounded up 11 of the best clear mascaras out there too.
Now, before you get to the goods, I'm gonna give you a little sneak peek of the content to come (we're friends, right? Right.) because, let's be real, I'm sure anticipation is hiiiiiigh.. .
Our top picks for the best clear mascaras in 2022:
Since you got a little taste, allow me to introduce you to the main course: The definitive list of the 11 best clear mascaras—from brands like Kosas, Kaja Beauty, elf, and more—and every single question you may have about 'em , below.
Advertisement – Continue Reading Below
Most Affordable Clear Mascara
Essence Lash & Brow Gel Mascara
Best defining clear mascara
Physicians Formula Mineral Wear Diamond Mascara
Best water-resistant clear mascara
Ere Perez Aloe Gel Lash & Brow Mascara
Best Clear Mascara for Eyebrows
Kosas Air Brow Clear + Clean Lifting Treatment Eyebrow Gel
Easiest to use clear mascara
Petite 'n Pretty Featherlight Clear Mascara + Brow Gel
Best clear mascara for sensitive skin
Zuzu Luxe Luxe Mascara
Quickest drying clear mascara
The Body Shop Brow & Lash Gel
Best clear mascara trio
Kaja Wink Lash Trio Mascara
Best clean clear mascara
Honest Beauty Honestly Healthy Lash Tint
Best Clear mascara lash and brow duo
elf Cosmetics Clear Brow & Lash Mascara
Best clear mascara wand
CoverGirl Professional Natural Lash Mascara
What is the point of clear mascara?
Clear mascara can do many things, including acting as a brow and lash gel, mascara primer, hair gel, false lash setting gel, and even a DIY color mascara. Let's break it down:
Brow and lash gel: This one may be pretty self-explanatory, but a clear mascara can be used to comb unruly brows and lashes into place or emphasize the hairs to define, add volume, and lengthen them.
Mascara primer: If you're looking to have some holy-wow lashes, use clear mascara to bulk up the eyelashes before applying mascara—just don't forget to let it dry first. Fun fact: Just like a face primer, mascara primer ensures that your mascara lasts all day long sans flaking.
Hairgel: Flyaways happen, we're all human. If you've got a few pesky hairs after sleeking your hair into a tight ponytail or bun, consider using clear mascara to lightly secure them into place.
Set fake lashes: Sometimes a regular mascara may be too heavy to combine the faux lashes with your real ones. After applying your fake lashes and allowing the lash glue to set, gently comb the clear mascara through your lashes.
DIY colored mascara: For the coolest hack yet, simply grab your favorite loose pigment and either mix it all completely into the tube of clear mascara or grab a clean, new spoolie and mix both products into the wand.
How to find the best clear mascara:
Determine what you need it for
The skin around the eyes is a particularly sensitive area, Dr. Gohara has explained to Cosmo, which is why it's important to ensure that if the product is marketed as an eyebrow gel, it's also safe for use on your eyelashes. If not, using products meant for other areas can lead to irritation, bumps, redness, or even allergic reactions, she explained. To avoid this problem, determine beforehand what you need it for. Looking to use it for both the brows and lashes? Cool, there are a ton of formulations on this list designed to do both.
Think about the brush size and shape
As Nicole has explained to Cosmo, the main factor contributing to the results of your lashes is the wand. "A fat and fluffy applicator will give you voluminous, fat, and fluffy lashes," Nicole said, adding that "a long, skinny, more-precise wand will give you long, skinny, clump-free lashes." Although clear mascara won't add pigment, this still rings true.
Why trust 'Cosmo'?
Siena Gagliano is a contributing beauty editor at cosmopolitan and has two years of experience writing about beauty, fashion, and lifestyle news. She's an expert at researching and writing beauty stories, like the top eyelash curlers and the best tubing mascaras, and she feels especially knowledgable on clear mascaras thanks to years of trying to find the best one for her unruly brows and short lashes. She regularly tests and analyzes clear mascaras on itself for efficacy, while working with the industry's top makeup artists to assess new brands and products.
This content is created and maintained by a third party, and imported onto this page to help users provide their email addresses. You may be able to find more information about this and similar content at piano.io
Advertisement – Continue Reading Below
.